Financial Aid to the Unemployed and Debt Adjustment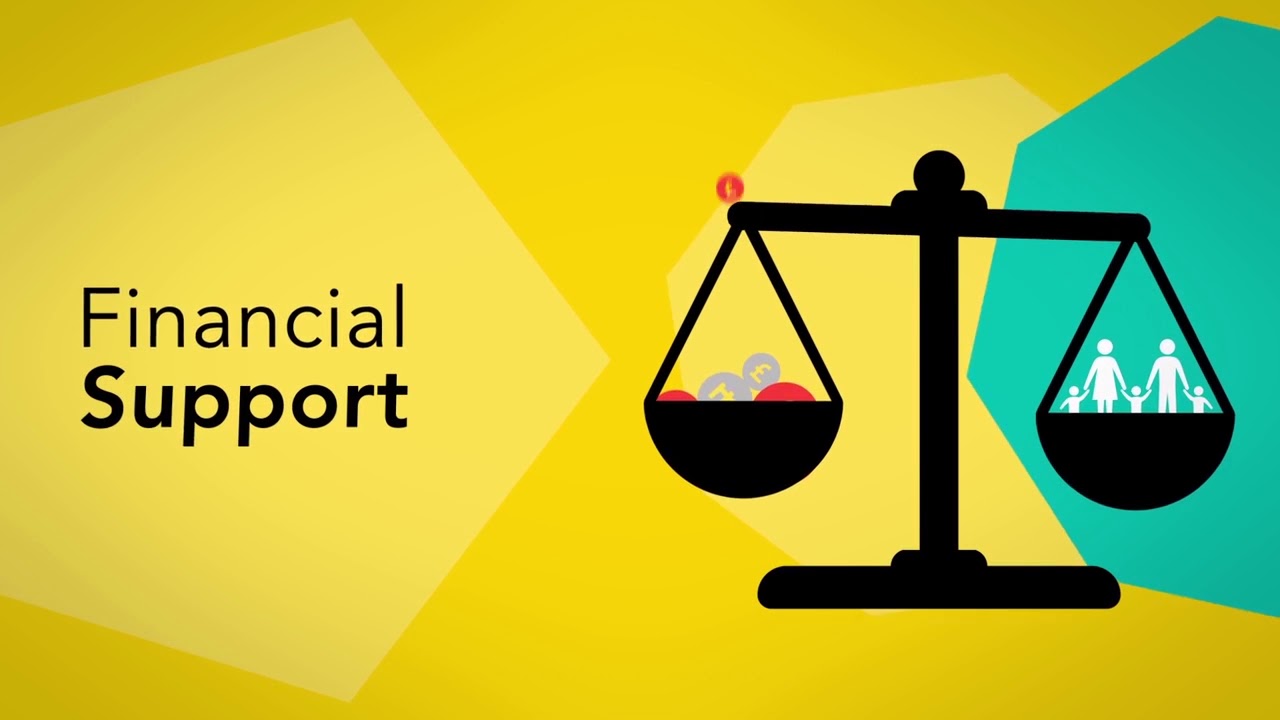 As COVID-19 is spreading worldwide, many are asked to work at home or even get sacked.
And it seems it's just a start, the influence to our daily life are likely to come stronger.
If you are going through the troubles such as applying for unemployment insurance, life support from the government, or if you are in need of having your debt organized, please refer to our blow suggestion.
Financial support to the unemployed
There are a few policies for people who have difficulties living because of loss of job.
Unemployment compensation
If you are unemployed by the company, take the Resignation form with you and register job information at Hello Work, then you are eligible to apply for Unemployment compensation.
Once the compensation is decided, you will need to wait for 7 days before your qualification if confirmed, and another 1 month will be needed to complete the bank transection.
According to the Ministry of Health Labor and Welfare, even if you are unemployed due to the influence of COVID-19, if you are considered as not having intention to work again, you will be able to apply for Unemployment compensation
Financial aid to skills school student
If you have unemployment insurance and unfortunately unemployed due to COVID-19, and at the same time you are going to the skills school, then you can apply for the Financial Aid to skills school student.
There are two types of compensation that can be applied, one is tuition compensation which is 500JYP/day, max 20,000JYP/month; the other is transportation compensation, max 42,500JYP/month.
However if the school is temporarily closed due to COVID-19, then please check with your city hall for details, we also get reference from the website below.
http://www.pref.osaka.lg.jp/nokai/c-kyuusyoku/index.html
This program is for those who are finically difficult with basic living needs, the loan can be applied with quite low interest.
If you have joint guarantor, then the interest of loan can be waived, in case of not having the joint guarantor, the loan can be applied for 1.5% yearly interest.
The eligible applicants include:
The who has no means getting loan from other organizations;
The one who is recognized as physically or mentally handicapped health and welfare certificate;
The one who is over 65 year's old
Please kindly refer to the website of the Ministry of Health Labor and Welfare.
https://www.mhlw.go.jp/stf/seisakunitsuite/bunya/hukushi_kaigo/seikatsuhogo/seikatsu-fukushi-shikin1/index.html
The program can be applied at your local welfare organization, they usually have welfare fund prepared to deal with various applications.
As the welfare fund is designed for different purposes, generally speaking it covers from utility fare, expense of additional construction, marriage and funeral, medical care, skill school tuition, ect, if certain requirements are met, the emergency financial support to living expense can also be applied.
There are 4 types of welfare fund available, you may refer to the below links for qualification and receivable amount.
https://www.shakyo.or.jp/guide/shikin/seikatsu/pdf/ichiran_20160128.pdf
https://www.shakyo.or.jp/guide/shikin/seikatsu/pdf/meyasu_20150331.pdf
Information regarding the local welfare organization can be found here:
https://www.shakyo.or.jp/coronavirus/shikin20200324.pdf
Deduction of insurance and tax
In case of income decrease due to unemployment, the payment of insurance and tax may be accordingly impacted and become difficult, in this case you may consult the local ward office for advice on deduction of insurance and tax.
The amount of deduction may differ according to local regulation, usually 30% to full deduction can be granted. Please find the detailed deduction plan as in below table.
(2020.3.22)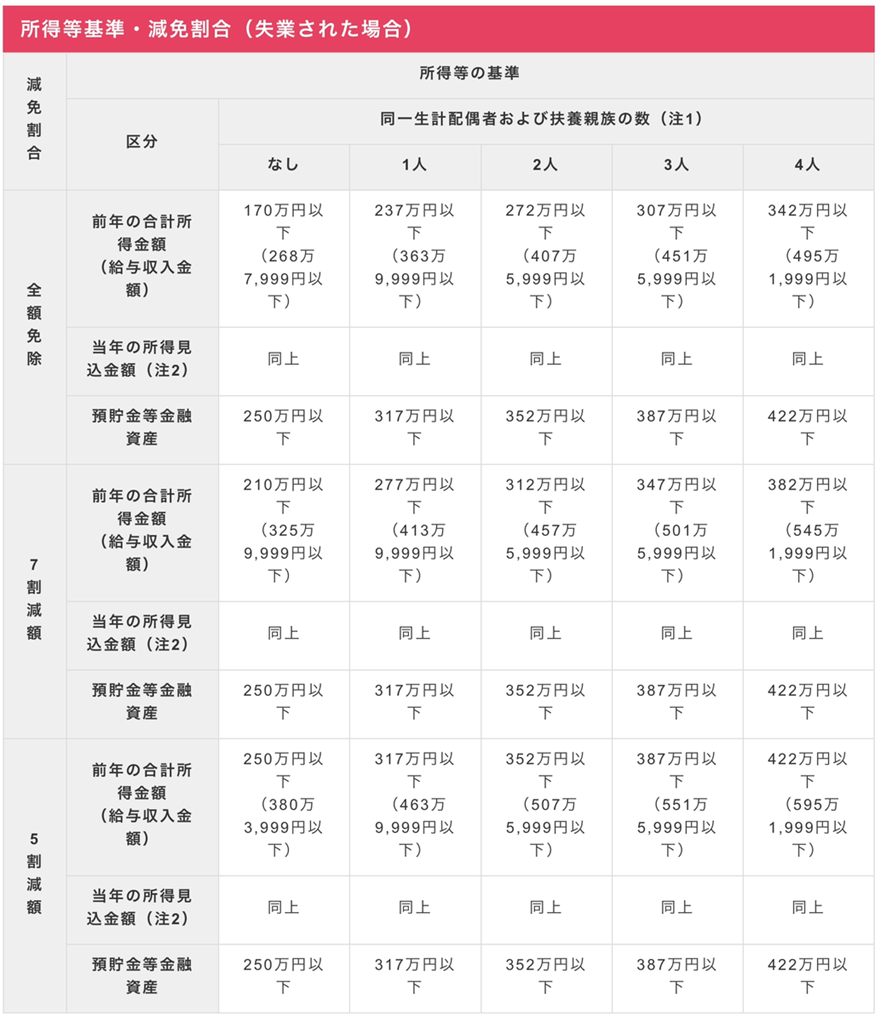 As mentioned, the rules may vary due to the local regulation, please confirm with your local ward office.
Minimum living expense support
This program is designed for those who are in severe poverty and require solution to support their minimum health and cultural needs, so that the applicants can gradually get independent again.
As the program is applied for family members to receive living expense at minimum level, your asset and ability to work will be evaluated, and if you are the main provider for the family, your request to this type of financial aid will be prioritized.
To be more specific, the below will be taken into consideration at evaluation.
If you have savings or own real estate, you'll be advised to use this part to support life at first.
If you are able to work, you will be advise accordingly.
If you are able to receive money from other financial aid programs, please consider those firstly
If you are able to be support by other family members, please do so.
If your case belongs to none of the above, and your income is lower than the minimum income determined by Ministry of Health Labor and Welfare, you are eligible to apply for the Minimum Living Expense Support.
The calculation of the amount to be received is not easy, please refer to below link for more details.
https://www.mhlw.go.jp/content/000611898.pdf
We would also advise you make the request at the welfare office of your district, please be noted the application will be analyzed case by case, it may be less of burden to ask help from administrative scriveners.
2. Tax adjustment for the unemployed
As you can see from above, various financial aid programs are available, however, if your income source is cut, your asset is hitting the bottom, and your debt is becoming heavier, there is little you can do about it.
In that case, there is one way to help you stand back up. The debt adjustment usually consists of general adjustment, individual rehabilitation and bankruptcy preparation. If you apply for bankruptcy, the debt will be erased and the payback will no longer be available. However, the tax, compensation for damages, and family support expense will remain available.
On the other hand, though the deduction of debt due to individual rehabilitation and general adjustment can be applied, it is well accepted that the debt will still need to be paid within 3-5 years once the application takes effective.
Please kindly refer to our website for more details if you would like to know all requirements for debt adjustment.
No matter whether you have lost your job due to COVID-19 or due to other situation, the financial support programs we introduced you today are applicable. We suggest it's better to have this information in mind to get prepared for possible problems.
Last but not least, you are welcome to contact us should you have troubles and need help from administrative scriveners and judicial scriveners, we will surely provide you the best solution as we could.